Tag: soap
by Maegan on Aug.01, 2011, under Couponing, Maegan's Deals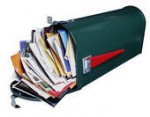 I used to hate going and getting the mail. Who wants to open a mailbox full of bills and junk mail? Now I LOVE getting it! I have to confess that sometimes after two days without mail delivery I can start to get a little anxious. I can't wait for Monday afternoon to come so I can see just what goodies await me in my mail box.
What goodies will be waiting for me? Well, not only can you request coupons on-line, but I have found you can get free samples of almost ANYTHING: soap, shampoo, perfume, cereal, coffee, protein bars, health supplements, dental floss, mugs, packing supplies, pet food… Its unbelievable! Also, the best thing about free samples is not necessarily the free sample itself; But most of the time the free sample is accompanied by a coupon for the product. That coupon can often turn into a free – full sized – item when combined with a sale! Just check out my post on Purex laundry soap here. It can take a lot of time, energy, and 'footwork' to hunt down some of these offers, but It will be well worth it. In order to assist you and get you started, I have assembled some current free sample links for you to check out.
Just follow this link right here on Samuel A Clarke.com to my new page of Free Samples, Deals, Coupons, Giveaways and Contests!
Here are examples some of the Great Deals I have had on My Deals Page…
Free Sample of Similac Baby Formula
Free Beauty Herbal Spa Herbal Candle
Free Sample of Kellogg's Fibre Plus Cereal
$2 off Coupon of Kellogg's Fibre Plus Cereal
Free Sample of Popcorn
Free Sample of Hugo Boss Fragrance
Free Sample of BreatheRight Nasal Strips
Free Baby Nutrition Kit and Free Cereal Sample
Free Sample of Ensure
Free Samples of Earth Naturals Soap
Free Samples of Zantac 150
***…AND MUCH MORE!!***

Happy Sampling everyone! Remember to register for this site so you can leave a comment for me. Also, don't forget to +1 on Google and 'like' my post on Facebook. Thanks

58 Comments
:blockbuster, boss, breatheright, Coupon, coupon site, coupons, ensure, extreme couponing, free, free sample, freebie, freebies, hugo, kellogg's, Maegan's Deals, samples, soap
more...