Tag: kellogg's
by Maegan on Aug.21, 2011, under Couponing, Maegan's Deals
I am always looking for the next great extreme couponing deal, and there is always a great deal to be had out there. The best way to get them is to be prepared ahead of time. If you have read my blogs in the past then you'll know where some of the best places are to load up on great coupons are, just see my post 'Coupon Sites and a free sample'.
One of the biggest mistakes I made in the beginning was turning down, or not bothering with getting coupons I did not think I could use. I am now ordering coupons all the time! You never know when you will have the perfect opportunity to use them. When a really great sale on something I have a coupon for begins – I am ready!
You can always find links to all my great extreme couponing deals in the 'Maegan's Deals' section right here at SamuelAClarke.com, including the ones mentioned here in this article. Here are a few of my favorite extreme couponing deals that are on right now.
The 'Kellogg's Fibre Plus' free sample and a $2 off coupon giveaway is back on for those of you who missed it the first time around (and second). You have to be quick if you want to get one of the free samples of either of their two flavours: Summer Berry or Harvest Brown Sugar. Both of them sound good to me! Don't worry if you don't manage to make it in on the free sample of cereal. Kellogg's usually continues to give away the $2 off coupons for awhile after they have run out of the free samples. The lowest non-sale price for this cereal I have found is $4.97 for a 310 gram box at both Real Canadian Superstore and Walmart. Just recently, and unfortunately before I got my coupon in the mail, it went on sale at Walmart for $2.97. That would have meant with the $2 off coupon I would have paid $0.97 for a box! I'll be hanging on to my coupon and watching for it to go on sale again! Which I am sure it will do.
Home Hardware has a great 'door-buster' deal on right now for Scott Shop towels at $1.67 with a regular price of $4.19. That's an incredible price as it is, but if you use the printable coupon for $2 off that's available right now – you get it for free! You have until Aug 27th to cash in on this extreme couponing deal.
The next big deal I like right now is on Dippity-Do Sport Gel. I have come across full size bottles at Walmart for $1.88. If you use the downloadable coupon available right now for $2 off, you get it for free! The coupon is good until Dec 31 of this year.
At Walmart right now, there is a special promotion on Purex 3in1 sheets. These are sheets that you put in the washing machine along with your dirty laundry and it doubles as detergent and stain remover. Then when you transfer your clothing to the dryer the special heat activated strip acts as a fabric softener. This is the coolest thing ever for someone like me who ALWAYS forgets to add my fabric softener. Normally Walmart sells a box of 24 for $5.97, but right now they have special smaller '20 count boxes' they are selling for $2.00. With the $3 off coupon that I hope all of you got with your mail-out Purex samples – the Purex 3in1 sheets are FREE! Are you beginning to see why I am a so obsessed with the whole extreme couponing scene?
Lastly, a drug store chain in Eastern Canada called Pharma Plus has Gillette Deodorant on for 2/$5. Using the coupon from P&G brandsaver, (save $5 when you buy 3 Gillette products) you can get them for only $0.83 each! If you are out west like I am, then you can hit up Pharmasave who has Gillette Satin Care or Shave Foam on sale for $2.49 each. You end up basically getting two for free when you buy three using the same coupon.
Go to 'Maegan's Deals' for all the links and stock up on these extreme couponing deals while you can! 😉
72 Comments
:deal, dippity-do, extreme couponing, free, gillette, kellogg's, Maegan's Deals, Purex, sale, scott
more...
by Maegan on Aug.01, 2011, under Couponing, Maegan's Deals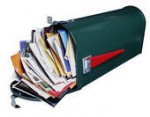 I used to hate going and getting the mail. Who wants to open a mailbox full of bills and junk mail? Now I LOVE getting it! I have to confess that sometimes after two days without mail delivery I can start to get a little anxious. I can't wait for Monday afternoon to come so I can see just what goodies await me in my mail box.
What goodies will be waiting for me? Well, not only can you request coupons on-line, but I have found you can get free samples of almost ANYTHING: soap, shampoo, perfume, cereal, coffee, protein bars, health supplements, dental floss, mugs, packing supplies, pet food… Its unbelievable! Also, the best thing about free samples is not necessarily the free sample itself; But most of the time the free sample is accompanied by a coupon for the product. That coupon can often turn into a free – full sized – item when combined with a sale! Just check out my post on Purex laundry soap here. It can take a lot of time, energy, and 'footwork' to hunt down some of these offers, but It will be well worth it. In order to assist you and get you started, I have assembled some current free sample links for you to check out.
Just follow this link right here on Samuel A Clarke.com to my new page of Free Samples, Deals, Coupons, Giveaways and Contests!
Here are examples some of the Great Deals I have had on My Deals Page…
Free Sample of Similac Baby Formula
Free Beauty Herbal Spa Herbal Candle
Free Sample of Kellogg's Fibre Plus Cereal
$2 off Coupon of Kellogg's Fibre Plus Cereal
Free Sample of Popcorn
Free Sample of Hugo Boss Fragrance
Free Sample of BreatheRight Nasal Strips
Free Baby Nutrition Kit and Free Cereal Sample
Free Sample of Ensure
Free Samples of Earth Naturals Soap
Free Samples of Zantac 150
***…AND MUCH MORE!!***

Happy Sampling everyone! Remember to register for this site so you can leave a comment for me. Also, don't forget to +1 on Google and 'like' my post on Facebook. Thanks

58 Comments
:blockbuster, boss, breatheright, Coupon, coupon site, coupons, ensure, extreme couponing, free, free sample, freebie, freebies, hugo, kellogg's, Maegan's Deals, samples, soap
more...