Tag: chocolate
by Maegan on Aug.04, 2011, under Couponing, Maegan's Deals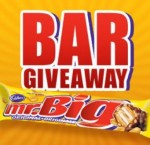 What is better than a yummy Mr Big chocolate bar? A FREE Mr Big chocolate bar! Mr Big bars are huge here in Canada, no pun intended. 😉 But for those of you who aren't familiar with them, Mr Big is the largest sized chocolate bar produced by Cadbury, hence the name. It's actually the length of two "standard"-sized bars end-to-end – around 20 centimetres long, and hey, I'm all for more chocolate!!
Now you are about to get your chance to get your own FREE Mr Big bar as Cadbury is having a giveaway sometime in the next two weeks, as rumour has it. When the giveaway begins you simply have to 'like' their Facebook page and then you will be able to get your freebie Mr. Big chocolate bar. I suggest visiting the Mr Big page on Facebook and adding it to your favourites so that you can check back frequently for news as to when the giveaway goes live. Thanks Cadbury!
Mr Big Chocolate Bar Giveaway:Free Mr Big
For more GREAT deals Click:
Don't forget to register for this site so you can leave me a comment. Also, don't forget to +1 on Google and 'like' my post on Facebook. Thanks

48 Comments
:Cadbury, chocolate, Coupon, coupon site, couponing, coupons, extreme couponing, Facebook, free, freebie, giveaway, Maegan's Deals, Mr. Big, sample
more...